ABOUT FILBERTS
Tucked away between the hills of West Dorset and the sea sits the landscape that gives us distinctive honey and beeswax. Born from a love of the land and a desire to make a living from it, Filberts has grown from three generations of British farmers.
Our proximity to nature runs through the heart of why the business started in 2008. From beeswax balms and salves to candles and polishes, we make functional and sustainable beeswax products with a quirky sense of style. Made for those who love a natural way of living.

Small batch production, always by hand
Handmade in batches from 100 to 1000 units in our production premises in Dorset, our products offer an alternative to the trend for branded goods made by outsourced contractors. We make from scratch, starting by gently heating and filtering blocks of beeswax as they come in from the field. We use low production temperatures to retain the inherent qualities of ingredients. Our work is open to regular inspection by Environmental Health and Trading Standards. Quality control includes full traceability of ingredients and approved product safety testing. We follow laid-down procedures with almost zero waste. 
100% natural ingredients, always
Our products do not contain synthetic colourings, fragrances or preservatives, parabens, phthalates, silicones, palm oil or mineral oils. They are concentrated, nourishing oil-based blends that contain no water. If you want a salve to absorb more quickly, just add a few drops of tap water when you apply it. Or apply salves to damp skin after washing. Avoiding water also means our products are good value for money, as a lotion may contain 50% water. We use high quality, 100% natural antioxidants Vitamin E and organic botanical CO2 extract of rosemary to ensure a minimum 30-month shelf life for our skincare range.
We harvest and filter wax from our hives, we buy extra wax in from other British beekeepers. Imported oils and butters come through suppliers with quality assurance accreditation and organic certification, when we buy organic. We use GM-free farm-pressed hempseed, rapeseed and linseed oils grown in the UK. Lavender, chamomile, peppermint and, when available, yarrow and thyme essential oils are UK-grown. To fragrance our skincare, we use only essential oils. Our honey soap is free from palm oil. We do not use products tested on animals.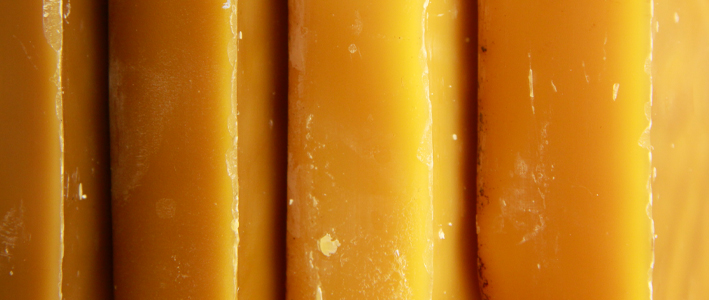 Roots in British farming
Dorset arable farmer Mark Rogers moved into honey production and experimented with crops to benefit the arable rotation and feed the bees. The sainfoin, buckwheat, phacelia and clovers produced forage for bees well as improving the quality of the arable soil. Today, Mark is a commercial beekeeper and grower of cider apples.  Wax, honey and propolis from the beekeeping is used by Filberts to make our range of natural balms, salves and polishes. 
A small, family-run business
We keep flexible hours around the needs of the season and the moment: making beeswax products, packing kit and gifts, on bee-related tasks or running courses. At Filberts, we all do a bit of everything, but this is how we mainly divide up the work:
Mark – beekeeper and recipe inventor
Philada – production and office
Freya –  sales, marketing and creative
Quirky artwork, grown by us
The Filberts look was first designed by illustrator Holly Clifton-Brown. Freya now produces and digitises our designs in-house, using line drawings, watercolours and printmaking.  
Invest in British bees
The English climate and other factors make for unreliable honey yields. But bees always produce wax, whatever the weather. That's why our beeswax-based products are so important, as they help to sustain the business through difficult seasons. When you buy Filberts, you're choosing to invest in British bees.